Treatment for "gummy smile"
(excessive gingival display)
Changing your smile can change your life
Resolve your worries about your gums being too visible when you smile
"Gummy smile" (excessive gingival display) refers to the gums being excessively visible when smiling. Worry about showing your gums could cause you be ashamed of your smile, covering your mouth with your hand or avoiding smiling altogether. In some cases, no one but you might understand just how difficult this can be to deal with.
At Oral Beauty Clinic Shirokane, we treat 200 patients with gummy smile each year, many of whom say they didn't even realize at first that the condition was treatable. What's more, the treatment is performed not by a cosmetic surgeon but by a dentist and can be completed in a single visit.
The three causes of gummy smile

The symptoms and causes of gummy smile can be divided into three categories: a lip line that is too high, a crown length that is too short and teeth that are positioned too far down and/or forward. It is important to select the best treatment approach for gummy smile based on the extent and symptoms/causes of each case.
In addition, many patients opt to combine the gummy smile treatment with other procedures such as ceramic crown or implant treatments to improve the color and positioning of their teeth.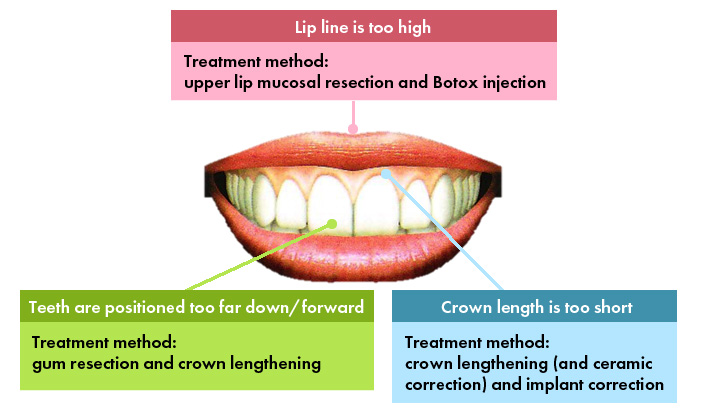 Gummy smile treatments performed by dentists
Upper lip mucosal resection

In this surgical operation, the mucous membrane between the upper lip and the gum is temporarily removed and sutured so that the upper lip no longer rises upward. A single iteration of this procedure results in long-lasting effects.

Crown lengthening

Gingival plastic surgery is used to remove a portion of the gum that is exposed and make the teeth appear larger. Although it requires some patient downtime, the effects of this procedure are unlikely to be reversed. It is also possible to perform ceramic implant correction at the same time to improve and beautify the positioning and shaping of the teeth.

Implant correction

This treatment method uses corrective implants to move the positioning of the front teeth. Also capable of treating conditions such as protruding teeth and deep bites, the disadvantage to this procedure is that the treatment time required is relatively long.

Botox injection

Botulinum toxin is injected to weaken the muscles that raise the upper lip, reducing the tendency of the upper lip to be pulled upward. This treatment is relatively inexpensive, but one disadvantage is that its effectiveness can wear off relatively easily.

Gum resection

Tools such as lasers and gum-contouring bars are used to trim the contours of the gums. This procedure takes relatively little time and involves almost no pain or swelling afterward, but one disadvantage is that its effectiveness can wear off relatively easily.
Treatment process
Examination and counseling

We talk with you about your needs and counsel you regarding possible treaments. Patients are invited to discuss their concerns freely with Clinic Director Masashi Sononobe, who performs some 200 gummy smile treatments per year.

Beginning of treatment

Some types of treatment can be performed and completed on the same day as counseling.

Treatment phase

Depending on the type of treatment, and particularly for procedures involving surgery or ceramic implants, some mold work may be performed after the procedure.

Post-procedure check

This process is repeated until the alignment of the teeth is corrected.
Pricing guide
Cosmetic contouring
10,800 JPY
Gum resection (wears off after a few months)
32,400 JPY (per tooth)
Crown lengthening procedure (CLP)
324,000 JPY (for six front teeth), 388,800 JPY (for eight teeth)
Upper lip mucosal resection (LIP)
270,000 JPY
Crown lengthening procedure (CLP) and
upper lip mucosal resection (LIP)
normally 594,000 JPY --> 540,000 JPY
Crown lengthening procedure and
ceramic implant correction
324,000 JPY + ceramic cost of 159,000 JPY per tooth
*Ceramic treatment is half price (79,500 JPY) for the fourth tooth
Implant correction (upper and lower)
Approximately 1,200,000 JPY
For patients who would like a one-day gummy smile treatment
At Oral Beauty Clinic Shirokane, we are welcoming more and more patients who come from all over Japan for gummy smile treatment.. In order to reduce the burden of transportation, lodging and other such costs, it is possible to schedule treatment in advance and complete your gummy smile treatment in a single visit.
After the procedure, a simple suture removal will be necessary, but we will supply you with a letter of introduction so that you can have the removal completed at your local clinic, eliminating the need to travel back to our facility. For details, please contact us by telephone or LINE or by filling out the inquiry form. We always have English-speaking staff on hand.
Gummy smile treatment examples
Successfully treated a gummy smile that had previously been unsuccessfully treated with Botox injection and orthodontics

The patient had tried treatment with Botox and orthodontics, but their gums were still exposed when smiling. A specialized software tool, "Digital Smile Design," was used to simulate the appearance of the patient's mouth after potential procedures, and as a result, an upper lip mucosal resection was selected and performed, successfully treating the gummy smile.

An upper lip mucosal resection alone resulted in this much improvement of a gummy smile

The patient began to feel self-conscious about the amount of their gums exposed in their photos and videos posted on social media. The patient's gummy smile was successfully treated, allowing them to smile without worrying about their gums.

Ideal results achieved by incorporating the use of ceramic implant correction

The patient's upper teeth formed a "deep bite" and bit into the lower gum. A crown lengthening procedure, in which the gum is resected to increase the visible portion of the teeth, was combined with ceramic implant correction to produce an almost ideal result.